2-1 Buydown – A Temporary Buydown to Help Get your Payment Lower the First Two Years | Omaha NE Homebuyer's Guide
HELPING BUYERS LOWER THEIR INTEREST RATE BY UP TO 2% AT THE START OF THEIR LOAN
Give your clients extra flexibility with a lower monthly payment by offering them a Temporary Rate Buydown to lower their interest rate at the start of their loan. It's a great option for borrowers who expect an increase in their income in the next few years or who have excess seller concessions to use — and want to take advantage of a low fixed rate.
I am a local mortgage broker serving Omaha, Papillion, Bellevue, La Vista, and all of eastern Nebraska. If you need help finding a local realtor or qualifying for a home loan please contact me.
Available for:
Conventional primary and second home purchases
FHA and VA primary home purchases
Seller-paid 1- and 2-year buydown options
2-1 buydown of 2% in the first year and 1% in the second year. By the third year, they are at the full rate.
1-0 buydown of 1% in the first year. By the second year, they are at the full rate.
See an example of the potential savings on a 2-1 temporary buydown: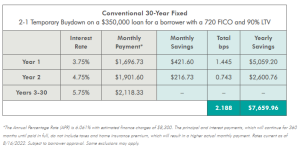 The borrower must qualify for the full monthly payment (before the buydown rate is applied)
Seller concessions are deposited as a lump sum into a buydown account. A portion of this sum is released each month to reduce the borrower's monthly payments.
Other useful links
What To Do Next